RED BARON "LADYBIRD"
This mini avio ride consists of a base carrying a decorative centre that supports the ladybird-shaped vehicles. The ride can rotate either in a clockwise and counter-clockwise direction and the 2 seater gondola are equipped with interactive lifting control to rise up the supporting arms by means of hydraulic cylinder. The seats are equipped with an independent safety bar on femurs for each passenger.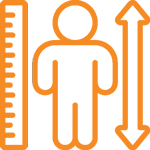 Guest must be: 47″ tall to ride (120 cm) OR 36" tall (90 cm) and accompanied by a supervising companion. Hand held infants are not permitted.
Restrictions can be subject to change in case of specific customizations implemented or local provisions.
Template of amusement ride
Download catalogue