Ferris Wheel 25 MT
Also a 25 meter Wheel is possible with Technical Park. Offering 18 gondolas with 6 places each this Wheel finds its way in many parks and funfairs because of its attractive look in a compact size. The customer can choose from several different gondolas: standard, wood style, venice style or the balloons… and all the colours can be customized! Balloon shaped gondolas are very appraised by children and a turning system is also available to offer them more fun.
Taking place in a Technical Park' Wheel means to enjoy a panoramic view in a safe and comfortable way becuase all our gondolas are made out of galvanised steel structures covered with a strong fibreglass body.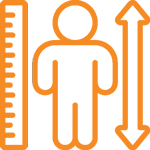 Guest must be: 55″ tall (140 cm) if not accompanied
Restrictions can be subject to change in case of specific customizations implemented or local provisions.
Download technical data
Download technical data cat
Template of amusement ride
What mass medias say about Ferris Wheel 25 MT