FERRIS WHEEL 60 OPEN GONDOLAS
This 60 meter Giant Wheel is available with closed or open gondolas, sample of this installation can be seen in Kharkov, Ukraine. It's a market leading observation wheel, the most demanded size for installations worldwide because of the best transportability compromise. With 40 gondolas it provides the highest capacity in his series. Currently this is one of the most successful models of its kind with capacity of over 1200 passengers per hour. A very beautiful Giant Wheel with a real height of over 55 meter with 40 open gondolas offers a majestic movement and a unique addition to any skyline. Vistors' experience is a breathtaking view suitable for city landscapes or parks.
Gondolas can be personalized with very clever solutions to make them multifunctional: modular gondolas 4 season design are available with polycarbonate screens or canvas.
VIP cabins are available and suitable for dedicated celebrations, even for a private, romantic dinner with food and wine.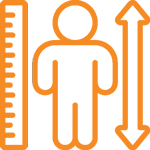 Guest must be: 47″ tall (120 cm) if not accompanied
Restrictions can be subject to change in case of specific customizations implemented or local provisions.