Pegasus 30
This thrilling and exciting attraction is not one for the kids or for families, it's a full blooded sensation for those who like to feel adrenalin rushing through their veins This totally new project has been studied and developed by Technical Park technical team in collaboration with TUV. This means the highest possible standards of safety, workmanship and materials are adhered to in manufacture.
The main arm of the attraction is installed in the middle of a steel basement. This central arm supports 6 vehicles of 5 seats each, for a total number of 30 passengers. The vehicles are lifted up to a max. height of 17 mt. by means of a hydraulic cylinder. The novelty of this fashinating ride is in a new dangling system allowing the passengers to dangle their legs free and giving them the sensation of being suspended in the air.
Even the design and structure of the seats are new. They wrap around the rider and carry out a looping reversion around their axis without any motor control. The sensation felt by the passengers is increased by a constant eye-contact with the viewing public, made possible because their backs are turned towards the centre of the gondola. This vehicle turns around its axis at a speed of 12 revolutions per minute. The attraction is also available in a travelling version with 2 semitrailers and it takes 1 day to set up.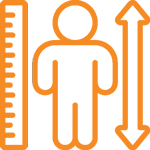 Guest must be: 55″ tall to ride (140 cm)
Restrictions can be subject to change in case of specific customizations implemented or local provisions.
Download catalogue
Template of amusement ride