CRAZY WORM – BRUCOMELA
The Wacky Worm (or Big Apple or Brucomela) is the most common kiddie gravity coaster design ever made, the ride comes complete with station and classic work shaped vehicles for 24 kids. There's not many arguments to describe this classic attraction ride because it's a very popular amusement ride.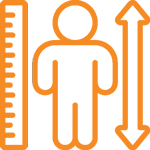 Guest must be: 47″ tall to ride alone (120 cm) OR 36" tall (90 cm) and accompanied by a supervising companion. Hand held infants are not permitted.
Restrictions can be subject to change in case of specific customizations implemented or local provisions.