FERRIS WHEEL 40 MT
The attraction is made up of a round vertical structure and of 34 gondolas loading 6 passengers each. The imposant structure of the Ferris Wheel is supported by two towers to be fixed to the concrete foundations. The attraction rotates by means of eight motors, each of them provided with a tire and installed on the towers.
The rotation is produced by the friction of tires on the slide guide that is set on the circumference of the wheel. The vehicles are made of a steel supporting frame covered with a fiberglass body and have an aluminium floor, safety fences prevent from falls.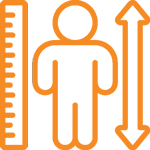 Guest must be: 55″ tall (140 cm) if not accompanied
Restrictions can be subject to change in case of specific customizations implemented or local provisions.
Download technical data
Download technical data cat
Template of amusement ride