JUNIOR COASTER
The ride is a classic gravity rollercoaster, medium size class, mainly composed of track leght 190 m approx and 7,5 meters top lift height. The station is equipped with loading platform, stairs and ramps.
The ride works with one train 5 wagons.
In station, motorized kicker wheels move slowly the train or stop it. Operative cycle raise the train up to the main hill, after that the train descends for gravity and complete the run in arrival zone, when kinetic energy is almost exhausted. Stopping is anyway controlled by magnetic brakes before arrival and second kicker wheel drive.
Wagons is in metallic painted structure supported by upper, lower and lateral wheels. Body wagons can be themed according to any customized subject and are constructed in fibreglass with smooth finish surface.
Seats are equipped with safety-bar unlockable only by staff by control system.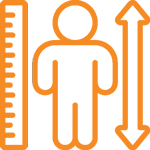 Guest must be: 47″ tall to ride alone (120 cm) OR 36" tall (90 cm) and accompanied by a supervising companion. Hand held infants are not permitted.
Restrictions can be subject to change in case of specific customizations implemented or local provisions.