FERRIS WHEEL 45 MT PORTABLE - OPEN GONDOLAS
This 45 meter wheel is a unit designed with self standing base and it represents a state-of-the-art transportable giant wheel.
It is designed and developed for the shortest installation time using cranes and ordinary semitrailer.
Columns are hinged and service winches on the basement allow efficient handling and installation.
The all can me moved on 8-9 regular trailers (according to the gondolas model chosen).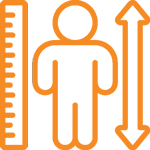 Guest must be: 55″ tall (140 cm) if not accompanied
Restrictions can be subject to change in case of specific customizations implemented or local provisions.
Virtual Tour