HAPPY SLIDE
Probably slipway is the first attraction that all of us have ride when children and at every occasion it reminds us our infancy, this make the slides a classic and fabulous attraction for fairs and amusement parks.
Nowadays we build them in various shapes with a certain number of cat's back's, these are formed by fibreglass lanes, from a min. of 2 to a max. number of lanes depending on Client's wishes, the ride can be perfectly adapted to every need.
Passengers slide down on tissue carpets. Furthermore, our new and exclusive way of theming the lanes makes the ride even more attractive for passengers and public for example with the beautiful waterfall jungle theme. Slides are available in different versions with heights of 9 mt. or 12,5 mt.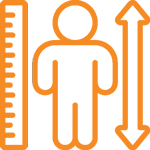 Guest must be: 47" tall to ride alone (120 cm) OR be accompanied by a supervising companion. Hand held infants are not permitted.
Restrictions can be subject to change in case of specific customizations implemented or local provisions.
Download catalogue
Template of amusement ride