PLAYGROUND
Personalized PLAYGROUND design and custom-designed playstructures for children of all abilities are available from our catalogue and equipped with a set of slides, tunnels, bridges, panels, decks, roofs, climbers, and ramps as well as all sorts of monkey bars and other overhead activities. Our playgrounds are 100% PVC free with a large choice of pour-in-place, bonded rubber mulch, synthetic turf, rubber tiles, and synthetic turf available in a multitude of colors and designs to fit your play area perfectly. These play structures are designed for children of all ages from 2 to 12 as well.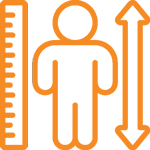 Guest must be: 40" tall (105 cm) unaccompanied.
Restrictions can be subject to change in case of specific customizations implemented or local provisions.
Download catalogue