FERRIS WHEEL 80MT
The Ferris Wheel 80 Mt has 40 new cabin gondolas comfortably carrying 6 passengers each – VIP gondolas with air conditioned available as like as special gondolas for passengers on wheelchair.
The structure is projected against earthquake and winds storms, the electric system always assembled inside an air conditioned cabinet is manufactured with the best components ABB and SIEMENS and provided with auto-diagnosis and modem for remote service. The transmission, by means of tires creeping on a rail, is with AC motors ABB while a PLC controls the correct working and the impressive light-games available with crystal white or multicolor LED. In case of blackout an emergency battery system permits the release of the brakes in order to allow unloading of the passengers by rotating the wheel. The wheel are so popular because everybody who rides on one of our wheels will feel the sensation of being free and safe in the air while watching beautiful landscapes together with family or friends.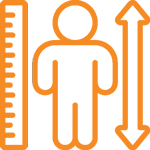 Guest must be: 47″ tall (120 cm) if not accompanied
Restrictions can be subject to change in case of specific customizations implemented or local provisions.
Template of amusement ride