FERRIS WHEEL 20 MT
The 20 meters Ferris Wheel is available for permanent parks or trailer mounted.
The attraction rotates by means of AC motors, each of them provided with a tyre frictioning on the slide guide that is set on the circunference of the wheel.
The 16 gondolas are made of a steel supporting frame covered with a strong fibreglass body while the floor is made of alluminium for longlife and very short maintenance.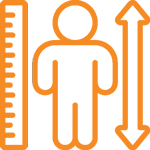 Guest must be: 55″ tall (140 cm) if not accompanied
Restrictions can be subject to change in case of specific customizations implemented or local provisions.
Download catalogue