FERRIS WHEEL 17 MT
Nothing says family more than a giant indoor Ferris Wheel and this is the world's largest indoor Ferris Wheel. It has 14 cars toy-related, inspired by a favourite children's toy or character including, Barbie, My Little Pony, Mr. & Mrs. Potato Head, Hot Wheels, Toy Story, etc.
The 17 mt. ferris wheel in the picture above has been specially themed for TOY 'R' US Times Square in New York, USA, but to give more examples of our theming attitude we can mention the Far West Wheel 20m. delivered in Germany and decorated in "wooden structure" style with western wagon shaped cars or our 34m Ferris Wheel delivered in Alabama, USA, the bigest marine drive wheel in the world!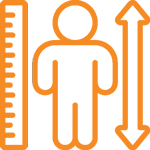 Guest must be: 55″ tall (140 cm) if not accompanied
Restrictions can be subject to change in case of specific customizations implemented or local provisions.
Download technical data cat
Download technical data
Template of amusement ride