FERRIS WHEEL 35-40 meters – NEW ROAD MODEL
This portable panoramic wheel can be build up without any crane and holds gondolas on the edge of a 24 spokes structure (a spoke for every gondola). The spokes are packed on a central trailer (approx 16 meters long) while the pillars structure is packed into two semitrailer on the sides, to have an excellent weight spread for traveling purpose. A fourth trailer (not included in the supply) is necessary to pack the gondolas. The motion transmission as usually is by means of four groups of motors with reduction gear box and tires rolling on two rails at the boundary of the Wheel, driven by inveters.
Several illumination packages are available, with ordinary white led or RGB. The ordinary central disc on the hub can be replaced by a RGB matrix panel screen for multimedia entertainment, an interesting advertise for sponsors that can generate an extra income.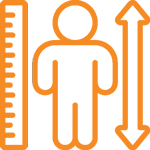 Guest must be: 55″ tall (140 cm) if not accompanied
Restrictions can be subject to change in case of specific customizations implemented or local provisions.
Template of amusement ride