FERRIS WHEEL 100 MT
The Technical Park Wheel is the ideal centerpiece iconic family attraction. Its impressive size and illumination makes it a magnet for visitors at every amusement park or can create a landmark for a seaside location attracting crowds as a conventional meeting point. This 100 meter wheel turn-key project is a very interesting opportunity especially for real estate investors who look at profit maximizing with externality benefits.
It is an exciting ride offering guests from grandparents to young children amazing views in all directions, with round pipe columns pro-viding greater transparency and an elegant structural appearance.
Eight energy-efficient electric motors turn the Giant Wheel via friction wheels virtually silent into the sky.
Economical, environmentally friendly, and durable LED lights transform the Giant Wheel into a sparkling ocean of light after sundown. Furthermore, the LED lights can be chosen with multiple color patterns, turning the Giant Wheel into an awe-inspiring kaleidoscope of light and color.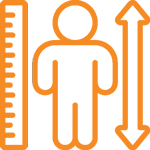 Guest must be: 47″ tall (120 cm) if not accompanied
Restrictions can be subject to change in case of specific customizations implemented or local provisions.