FERRIS WHEEL 60MT - CABINS
The FW60 meter Giant Wheel is also available with closed gondolas. A series-produced Giant Observation Wheel fully designed and developed in Italy. With its compact eight-column structure, the Giant Observation Wheel rests on a reasonable footprint and is extremely efficient to handle and to install. The cabins are installed on the edge of the circular rails offering a wonderful panoramic view. Sliding doors for easier loading and unloading, anti-slippery floor, comfort climate Air conditioning come included in the equipment proposed; while sound system and further amenities can be available on demand. Super VIP gondolas may feature also leather couches, table and refrigerator… endless personalized versions are available.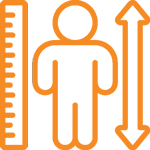 Guest must be: 47″ tall (120 cm) if not accompanied
Restrictions can be subject to change in case of specific customizations implemented or local provisions.
Download technical data
Download technical data cat
Template of amusement ride